Fallen Heroes
Hugh Hewitt provides
this
moving email from the girlfriend of 1st Lt. Joshua Michael Palmer, who was killed by enemy fire in Fallujah back in April of this year. Read the entire email, including the account of how Lt. Palmer died.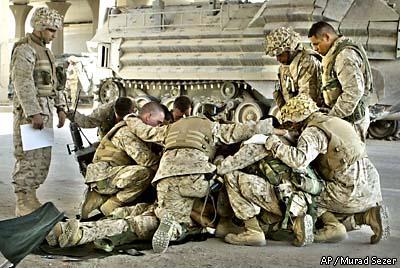 The photo is the one referred to by Hugh, posted online by Rick Brady at
Stones Will Cry Out
.
On this veteran's day, pray for our soldiers specifically in Fallujah, who are fighting with the kind of uncommon valor and selflessness that is so remarkably common in our armed forces. It is because of their courage and sacrifice that we can, in the words of Winston Churchill, "sleep the sleep of the saved and thankful."